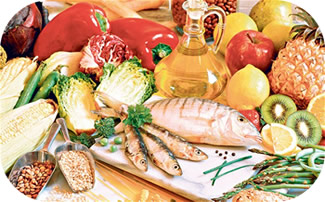 In review, there is a direct relation between inflammation and the foods that you eat. Eating healthier is the right move for all of us. For those suffering from inflammation, eating the right types of foods can make life more enjoyable. The next time you are at the market consider experimenting in the kitchen with those anti-inflammatory vegetables mentioned. Don't be afraid to try something new in the kitchen, and remember to replace vegetable oil with olive oil when the opportunity arrives. Picking up a jar of tart cherry juice isn't a bad idea either considering how much we know about its anti-inflammatory properties. In the meat aisle, select some fish that contain omega-3 fatty acids, like salmon, mackerel, and tuna. These fatty acids will help reduce inflammation. Remember, Omega 3 Fatty Acids reduce inflammation and Omega-6 Fatty Acids increase inflammation. Ginger and Turmeric are wonderful anti-inflammatory spices that can be used in a multitude of different culinary dishes. If you hope to consume more inflammation-fighting foods, consider brewing anti-inflammatory spices into a favorite tea and drinking it. Nuts make a great anytime snack, however, it's best to pick the ones that contain no salt. Salt can lead to inflammation, and high salt content in a diet isn't good for anyone. Walnuts and hazelnuts contain what you need to reduce inflammation. Stay away from foods that contain mostly flour and gluten. Even a small cookie will usually also contain high levels of sugar, so be mindful when consuming these types of foods. Sugars can drastically lower insulin levels in the body, which can lead to inflammation. The same thing goes for refined grains like cereals and pastas. There are a lot of "bread" related items that are known to be pro-inflammatory, so a little research on these foods would be a good step in treating your inflammation. Remember, do not drastically alter your diet without consulting your physician beforehand. A sudden strong change in diet can create problems in your body that may lead to other ailments worse than inflammation. Start off slow, in small increments, when changing your diet. Keep your physician informed of the changes you are making in your diet so that you can both create a diet plan that fits your needs and reduces your inflammation all together. Click Here to View an Interactive list of beneficial foods.
Andwele M. Eat right for your type of arthritis: Learn about foods that help ease the pain and inflammation and slow disease activity. Arthritis Foundation. 2015. 1;(1-2)
Mercola J, Top anti-inflammatory foods, herbs, and spices. Mercola, Feb, 2015,;ACCS:Jul, 2015.
Novak D, Anti-Inflammatory Fruits and Veggies, www.healthline.com, Dec, 2013; ACCS:Jul, 2015.
Holmes L, 5 Delicious, real foods that reduce inflammation, MindBodyGreen, Feb, 2015.
Wigler I, Grotto I, Capsi D, Yaron M. The effects of Zintona EC (a ginger extract) on symptomatic gonarthrits. Osteoarthritis Cartilage. 2003 Nov; 11(11):783-9. 2003.
Bradford Pharmaceutical School, British Pharmaceutical Conference 2003, Pub. Sep, 2003, NutraIngredients.com.
Sancho R. Lucena C, Macho A, et al. Immunosuppressive activity of capsaicinoids: capsiate derived from sweet peppers inhibits NF-kappaB activation and is a potent anti-inflammatory compound in vivo. European journal of immunology. 2002;32:1753
Rakel D and Rindfleisch A. Inflammation: nutritional, botanical, and mind-body influences. Southern Medical Journal. 98(3):302-10, March 2005.
Freed DLJ. Lectins in food: their importance in health and disease. J Nutr Med 1991;2:45-64.
14 foods that fight inflammation. www.health.com, 2015.