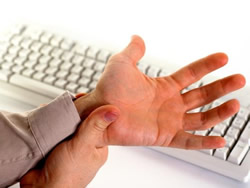 We love using computers, mobile phones, iPads, etc. In fact, we spend hours on these tools. An estimate suggests that an average American spends a continuous 3.3 hours on texting and social media per day. Modern technology has brought so much comfort into our lives in one sense, but many are unaware of the stress that has been added to our hands, fingers, and wrists. This stress enhances the inflammation and pain associated with carpal tunnel. If you are facing symptoms, such as pain, numbness, or difficulty moving fingers and wrists, you should make changes as soon as possible. In a perfect world, someone might be able to put the phone or computer away for a while and give their hands a break, but with so many jobs dependent on modern technology that doesn't even seem like a remote possibility! If this is a dilemma you are facing, then do not worry, there are alternatives!
You need to find a good mouse and an ergonomically designed keyboard with soft keys. Go into an electronic store, test every keyboard, and select the best one for you. If the keys are hard to push, it is causing extra stress to your hands. It is your enemy!
Another tip to ease stress on your hands is to make sure you keep your hands on the table while you type, or buy yourself a wrist pad that elevates your wrist to the level of your keyboard. This can keep you from holding your wrists at awkward angles and also allows you to relax just a bit.
If you have to hold a phone all day long, invest in a headset. This will allow you to rest your hands rather than holding them in positions that add stress to your Carpal Tunnel.  Also, rather than stressing your hands by pushing buttons on your device, use the voice command option that so many new devices have! If you avoid stress today, you can save yourself for tomorrow.
Extra tip: The "L" shaped posture of sitting is vital to avoid back pain. Few people maintain this posture while using computers and phones, and it can lead to severe back pain.