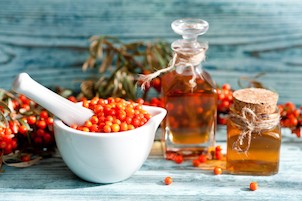 Sea Buckthorn Oil is an amazing ally for the skin. It contains a staggering amount of nutrients, including a huge range of vitamins, minerals and amino acids. It is also the only plant known to contain the fatty acids Omega 3, 6, 9 and 7 (usually only found in meat). This power house of nutrients has given Sea Buckthorn the distinguishing title of Super Fruit and is the reason for the popular fervor for the plant.
What is Sea Buckthorn Oil?
Sea buckthorn is a shrub that grows along the sea and in the high desert in Europe and Asia. The oil comes from the small orange "berries" of the plant. 
Sea Buckthorn actually produces two different kinds of oil: that of the fruit, which is a lovely dark red to red-orange in color and viscous in quality; and that of the small dark seeds, which is yellow-orange in color and of a thinner quality. The smell of both is sea-musk. 
The two oils are similar but do have a different nutrient profile—though both are excellent—and are especially effective when mixed together. 
What Makes Sea Buckthorn So Especially Delightful to the Skin?