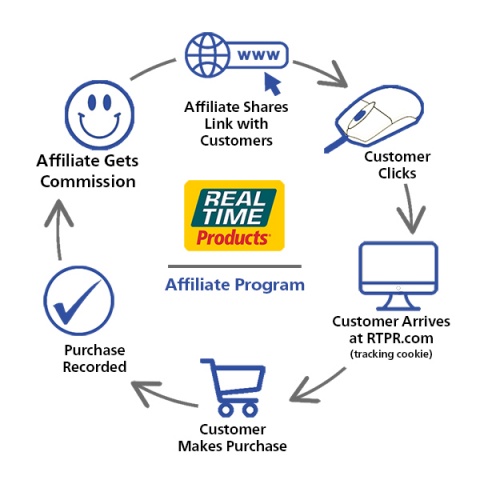 The current demand for Hand Sanitizer Dispensers by businesses and organizations has turned RTPR's Affiliate Marketing Program into a great money-making opportunity. Anyone interested in spending a few minutes per week to promote "RTPR's Buy Two Gallons and Get a Free Dispenser Promotion" online can succeed in this program.
"We've had an Affiliate Program since 2008, but we have never seen this level of commissions being paid out through a targeted online offer," stated RTPR CEO Tim Flatt.
"That is a pretty significant landmark for a company that has seen affiliates/home business entrepreneurs earn over $50,000,000 (50 Million dollars) during the lifetime of our Affiliate Program," Flatt added.
RTPR's Affiliate Program is Right for You. Here's Why:
Straightforward- Let's take a quick look at the two characters in play:
·       The Merchant (RTPR) - has products it wants to sell. "Buy Two Gallons and Get a Free Dispenser".
·       The Affiliate - is someone who can make money by promoting RTPR's products to The Merchant.
Free Affiliate Version—RTPR offers a Free Version of its affiliate program that gives you a chance to promote RTPR's best offers and make maximum commission. If you are happy with the results, you can upgrade by purchasing a Starter Kit, or by earning your way to increase your money-making opportunities.
Significant Commission Opportunity—While RTPR's Affiliate Program is similar to the affiliate programs of major e-commerce sites such as Amazon, Walmart.com, and Expedia, there are 6 Major Differences:
1.    RTPR's affiliate program is available to everyone, not just internet marketers. This is because Real Time is driven by people who actually know and love the brand. 
2.   Commissions on Wholesale Purchases: Most affiliate programs either do not pay commissions on wholesale purchases at all, or pay a very low percentage (2%-3%). RTPR pays 12.5% commission on the purchase of the Hand Sanitizer Dispenser Packages.
3.   Commissions on Big Ticket Packages: The Hand Sanitizer Dispenser Packages are priced at $149.95 and $199.95.
4.   Commissions on Multiple Packages: Many accounts buy 2 or more packages at a time. You get paid on them all, rather than on just one of them.
5.    Commissions on Reorders: Customers are hard-coded to you when they make their initial purchase. This means that you get paid anytime they reorder Hand Sanitizer Dispenser Packages.
6.   Residual Commissions and Large Quantity Order Commissions (5 or more) are Available for our Brand Ambassador Affiliate Program.You can upgrade at any time and you'll become eligible to earn commissions on purchases by all of your customers, even if they joined when you were a basic affiliate.
100% Online Promotion—You can do 100% of your promotion online in just a few minutes a week, or you can spend 30 minutes per day. It's all up to you.
No-Cost Promotion:
·      Your personal connections are your biggest asset in affiliate marketing. The goal of the Affiliate Program is to use online promotions to connect your contacts to a product they need, and to get paid for doing so. Therefore, RTPR does not encourage affiliates to spend money on advertising.
·      Promotional Materials are free and provided in your back office for you to access anytime, anywhere.
·      All training is free and easy.
Proven Promotional Methods:
While online promotions are instantaneous and can create some rather quick results, it is important to remember that most results come weeks, or even months, after the promotion.
The focus is to do a little promotion each week. This creates consistency so your connections remember to check out your posts or go back to your emails when they are ready to make a purchase. It also enables your connections to refer to your post, or to email their friends who are looking for hand sanitizer dispensers.