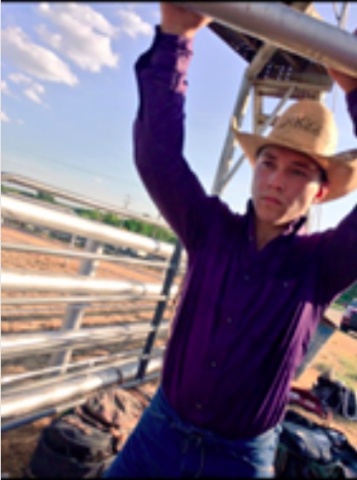 EDMOND, OK (PRWEB) SEPTEMBER 17, 2015
Real Time Pain Relief (RTPR), makers of the popular rub-on pain relief lotion and products, today announced that professional bull rider Dustin Ratchford has signed an official endorsement deal with the company. The teen bull rider from Wynnewood, Oklahoma is unique because he also attends college and will obtain his degree in Natural Gas Compression next year. But Ratchford's first passion lies in bull riding, a sport that has captivated him since he was a child. He started mutton busting at just three years old and slipped two discs in his neck riding steers at age 11. After taking three years off, Ratchford returned to the sport at age 14 after his brother and uncle built a bucking barrel so he could learn to ride correctly. Shortly thereafter, Ratchford's uncle borrowed 8 bulls and he rode 7 of them. He joined the JMBR – never placing less than third – and moved on to the MRCA and quickly climbed in the ranks. At 18 he joined the PBR and proved he has what it takes – winning the JW Hart Invitational in McAlester, Oklahoma. 
"I never did much about it – I would just ride the pain out," said Ratchford. "But once I got my hands on Real Time Pain Relief – I've been using the fire out of it."
"Dustin is a young man who's not only one tough bull rider, he's also much like our Real Time Pain Relief customers who balance work, school, family and recreation – so there's absolutely no time for pain," said Real Time Pain Relief Co-Founder Ron Snodgrass. "We're excited to sponsor Dustin as he continues to move up the ranks of professional bull riding and thrill audiences," concluded Snodgrass.
Ratchford has been selected by the PBR Legends Committee to be part of the search for the next up-and-coming PBR star in the BlueDEF Bucking Madness. His goal is to be one of the five riders to advance to Cleveland, Ohio on September 19th at the BlueDEF Velocity Tour. To hear the next chapter of this dynamic young bull rider's career and all his latest news, Like him on Facebook or follow him on Twitter at @DustinRatchford or Instagram at thatratchfordkid_580.
For more information on Ratchford's sponsor, Real Time Pain Relief, visit http://www.rtpr.com.
About Real Time Pain Relief (RTPR) 
Founded in 1998, Real Time Pain Relief (RTPR) is a family-owned and operated American company with all products made in the USA. The company's topical pain relief lotion, known for being the best-smelling rub-on, provides natural pain relief to people with arthritis, back pain and muscle strains. Over the past 17 years, RTPR has introduced several new products to market based on the specific needs of their customers, including Real Time Sports Cream, Real Time Skin Rescue, Real Time Foot Cream, Real Time Hand Cream, convenient travel packs, a 100% vegan product Real Time Pain Relief SELECT, and most recently MAXX Glide. Real Time Pain Relief is an FDA registered OTC, pain relief product. Visit http://www.rtpr.com for more information about Real Time Pain Relief.